Goliad High School welders won second place at the Victoria College Welding Rodeo Nov. 4.
"I am very proud of these kids working and succeeding at this contest," said Nathan Hammack, welding teacher at Goliad High School.
"The competition was great," he said. "Students get in the shop and get to work; and in the span of five hours, construct some very interesting projects."
The Goliad team consisted of Ashton Perry, Wyatt Cain, Aramis Garza and Aden Barrientez.
This is Hammack's second year teaching at the high school and has had these students each year.
"In my teaching career, I have taken teams to this event for four years," Hammock said. "This is the first team of mine that has ever placed at this event.
"Unlike other welding contests that place so much emphasis on the quality of weld and proper preparation, this contest places more emphasis on the artistic ability and creativity of the team."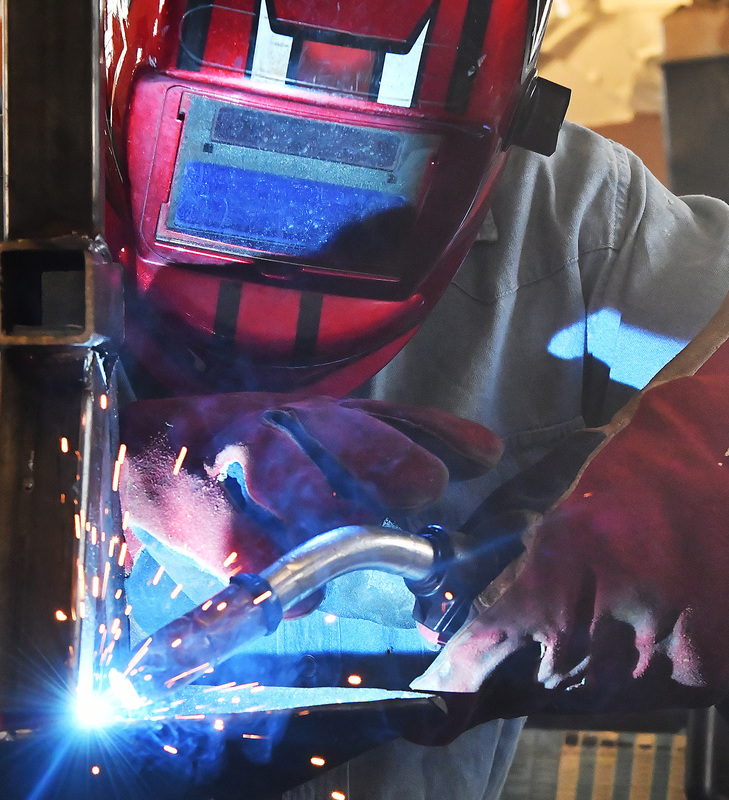 Aden Barrientez, a Goliad High School student, demonstrates a weld this week on the design dubbed the "thing" that won them second place at the Victoria College Welding Rodeo.
---
This type of competition puts an emphasis on the students learning to work together as a team under difficult time constraints with little advance preparation.
"It also gives them a glimpse as to what a college welding program looks like from the inside and gives them a chance to interact with not only the students that are currently in the welding program but the faculty that run it," Hammack said. "This helps to build programs like the one at Victoria College by giving them a face to a name."
Each of the eight teams had the same instructions for this contest.
"The teams were instructed to build a structure that fit with the theme of Geometric Sculptures," Hammock said. "They were given a total of five hours to design and construct a geometric sculpture. Geometric projects require precise layout and good skills with angles and measurements.
"They had no idea what types of material that they were going to be working with until the contest began."
Barrientez, who has been in the welding program three years now, said that the unknown is what makes this contest so difficult.
"It was challenging," the senior said. "They don't tell you what metal you are getting. You can go in with a plan and have to change it all up because they give you something completely different.
"It took us an hour and half to come up with what we were going to do."
Their final product is now dubbed the "Thing."
Their second place win came with more than just accolades.
Each received 150 pounds of welding rods, a box of 4.5-inch grinding wheels, safety glasses, work gloves, welding jackets and tool bags. This was donated by Airgas of Victoria and Matheson Gas.
---
At top, members of the Goliad High School are, from left, Aramis Garza, Aden Barrientez, Wyatt Cain and Ashton Perry