Shown here is the holiday card design by Ocea Diaz. At top is the design by Austin Garcia. These designs here are just a sampling of the artwork from Goliad High School that is being submitted.
---
Story by Makay'la Cavazos, journalism student at Goliad High School
The Region 3 Education Service Center is hosting a holiday card contest with the winning design becoming their official greeting card this season.
The artwork will be used on the cards sent to the other service centers across the state, as well as to all the superintendents in Region 3 and others connected with the center.
This contest is open to all students within Region 3. Artwork must be 2-dimension and must reflect the theme "Home For The Holidays". Among those entering are the art students at Goliad High School.
Molly Kresta, director of communications and marketing, said "Every year, Region 3 sends holiday cards to the other Education Service centers in the state, as well as to our superintendents and other stakeholders.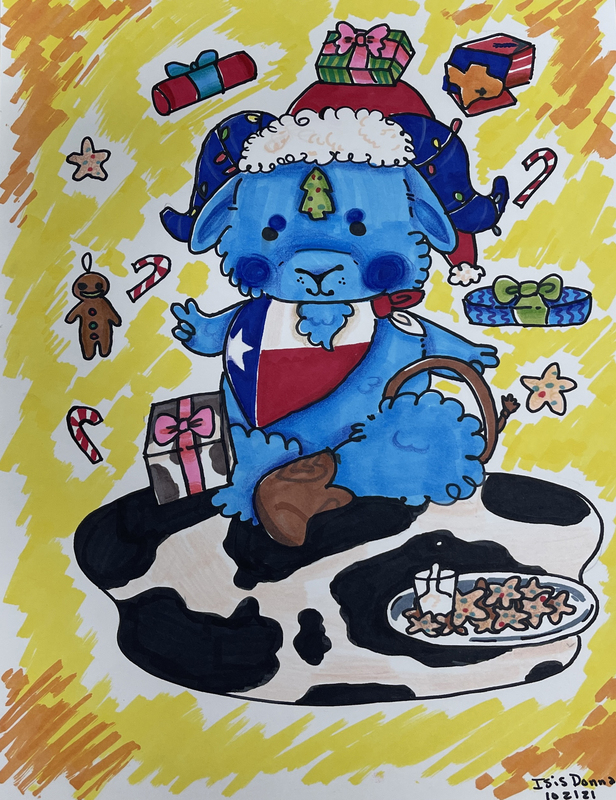 Shown here is the holiday card design by Isis Donna

---
"The majority of our staff come from teaching backgrounds, and we miss the interaction with the students. Our entire staff participates in judging the cards, and it is a highlight of the holiday season."
The judging process is never an easy one though.
"We lay them out across tables in our conference rooms and staff take a break and vote," she said. "This narrows the field to about five cards per category and the administrative team selects the overall winners."
A winner will be selected from the elementary, middle and high schools. Each winner will receive the prize of a $25 gift card, social media recognition and a box of cards with their created design.
From those, an overall winner will be chosen for the Region 3 holiday card.
Deadline to enter is Nov. 5. For more information on the contest, email mkresta@esc3.net.
---
Shown below is the holiday card design by Abigayle Fagg.