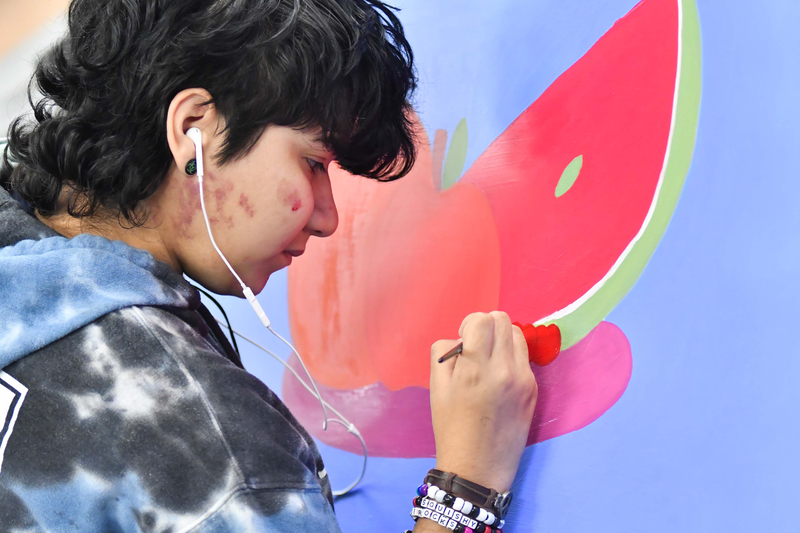 Photo by Jason Collins
Aliina Garcia, takes her time as she paints the details on her mural during art class at Goliad High School. At top Ethan Chavarria laughs as he pauses painting his mural during Vicki Wimberly's art class recently.
---
Goliad students helping brighten food bank building
Vicki Wimberly's art classes at Goliad high are adding the last brush strokes to their vibrant vegetable and fruit themed murals that will soon brighten the white walls of the Goliad food bank.
According to Wimberly, she had been asked to do this by Rebecca Bartee pre-pandemic.
"We were actually able to take six murals over to the food bank," Wimberly said.
When COVID-19 cases rose last year and schools went remote, their work stopped.
Now, with students in class, the work to make the food bank more welcoming and less like a warehouse has resumed.
"I let them come up with their own designs. I'll make some suggestions but that's it. It's their artwork," Wimberly said.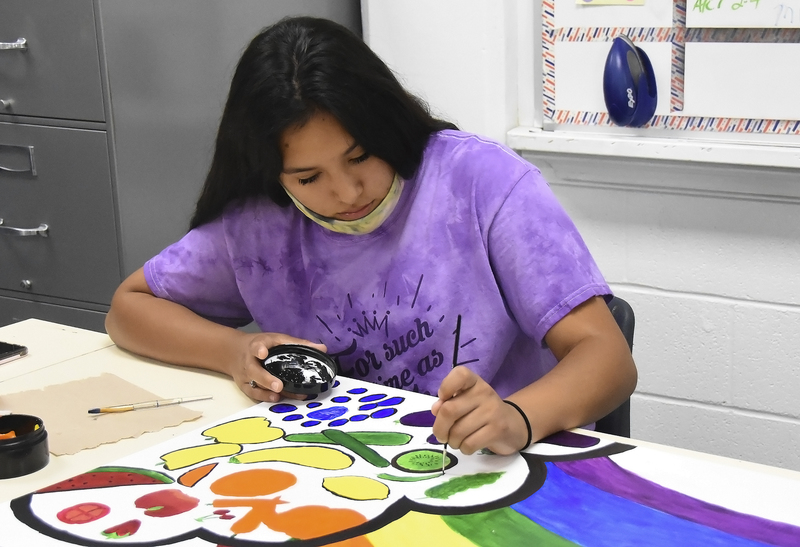 Photo by Eden Skipper
Maria Carbajal, a student at Goliad High School, works on her fruit and vegetable themed mural during Vicki Wimberly's art class. The mural is one of many being given to the Goliad food bank to decorate the walls of the donation building.
---
The children that are participating in the painting are second, third and fourth year students. "I think the kids really enjoy it because I let them come up with their own designs…," Wimberly said.
Morgan Luke and Marie Carbajal, two students who are working on a mural together, painted an assortment of fruits and vegetables with a rainbow and color scheme inspired by the Skittles slogan "Taste the rainbow."
Luke added, "We are painting murals in order to get people to donate to the food bank.
"(Wimberly) said it needs to have fruits and vegetables but put your own little spin on it, and I think a lot of us just kind of had fun with this…"
According to Carbajal, "It's kind of taking a little long. We've just gotta go over the paint and redo it and stuff like that."
Only two murals remain to be completed, and those should be done soon.
Next month, these will hopefully be on the wall of the food bank to brighten the background for the shinning food bank volunteers.
This article is a combination of stories written by journalism students Eden Skipper, India Hamilton and Dayla Perry.